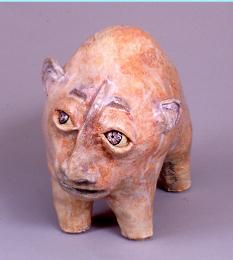 Big Red Sun, fabric mache, 35" h x 34" l x 6" w

At nearly 3 feet across, Big Red Sun is impressive and riveting. Look into his eyes... Made of wire, fiberglass, fabric, and glass, he is very lightweight and sturdy.

$350.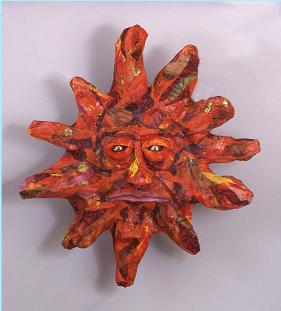 Enigmatic Sun, papier mache, 35"h x 32 " l x 5" w

He will stare back at you, calmly but thoughtfully, willing you to think deeply yourself. Request a light but durable Enigma for yourself:

$350.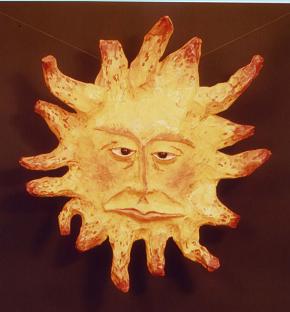 "Hillside" ceramic mosaic, 29" w x 41" l x 2"h
Made to your specification, mosaic images are designed and transformed into handmade irregular tiles, that can be mounted in the desired location or set onto board. I specialize in landscapes, trees, and abstracts.
Imagine your garden wall, your outdoor kitchen, your indoor backsplash, or your blank exterior wall converted into a unique work of art to be enjoyed every day! (This example mounted on board, framed with architectural foam, mounted to exterior brick wall.)
Starting at $95 per square foot.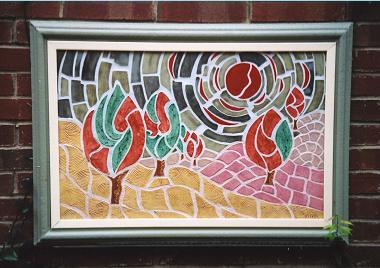 I create other types of sculpture, including papier/cloth mache and wall sculpture. Garden pots are in the works, and I'll think of more over time.

Ask me about one of the designs below, or one of your own, or one I can design just for you.

Seriously, you need one. Just say yes, and Contact Me.


Wall Sculpture, ceramic, glazed. 9"h x 12 " l x 8" w

Wired to hang on interior or exterior walls. Shown here on outdoors wall. Commissions welcome. This size

$195

. Installation suggestions available.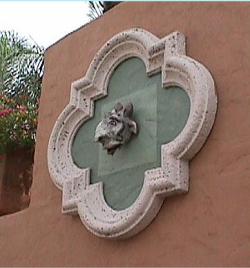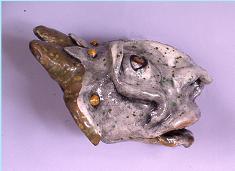 Small ceramic suns (about 10" to 12" across).
Each will add an air of thoughtful introspection to your wall, garden, or workplace.
Request a favorite color.

$75

.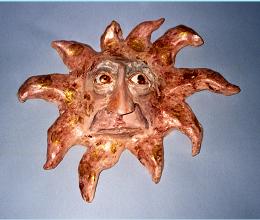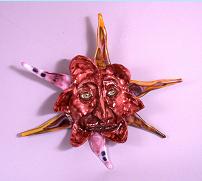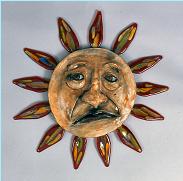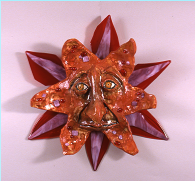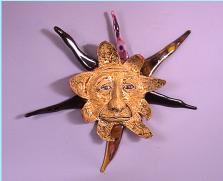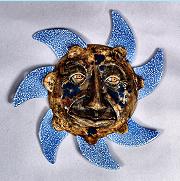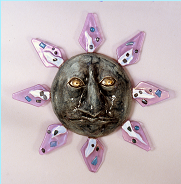 Ceramic and glass suns, all about 5" H x 17" L x 17" W.
$165.
Ready to hang on a wall, inside or out. Request your favorite color combination.

Thoughtful Sun, Ceramic, glazed, 23"w x 23 " l x 8" h.
Approximately 4 feet in diameter across widest dimension with rays (depending on design requested). $350 without rays, $495 - $600 with ceramic or glass rays (depending on size and the cost of materials). Request your preferred colors and design, or let me help with both.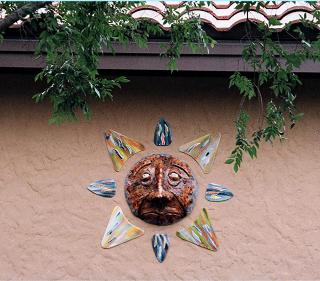 Elliott, cloth mache, 38" H x 42" L x 18" W.
Elliott is a griffin, a fantastic creature of great dignity and strength. He likes to guard the stairs. Ask about adopting a brother or sister.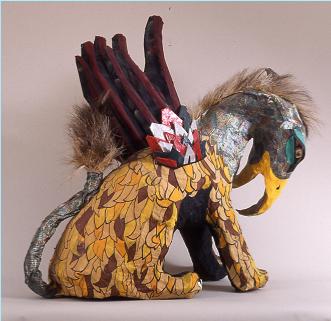 Frederick, cloth mache, 28" H x 45" L x 30" W.

(and only about 10 pounds in weight)

He may look scary but he is really a big, horned, clawed, puppy dog. Just don't pull his tail. Need to adopt one of his cousins, just let me know! (Frederick can't leave home right now.)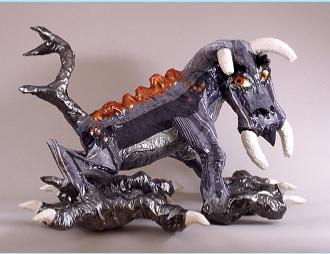 Nancy Krug
www.RareCreatures.com
nancyk@rarecreatures.com
1226 Winter Garden Vineland Road, Suite 100
Winter Garden, FL 34787
cell: 407-492-0668
Creatures, stories, website © Rare Creatures